An innovative form of smell that paints the air
Ku is a washi (Japanese paper) that releases fragrance without a need to be burned. Designed collaboratively by the incense masters in Awaji Island, Ku has been created by delicately mixing the natural perfumes within the paper and then spreading it out in a thin layer to dry. Now you can enjoy the Japanese culture of "soradaki": the pleasure of enjoying a faint distant bouquet that floats between spaces.
Whether it be on the walls designing the space you are in, or included within letters to loved ones so as to share delightful scents, or to simply enjoy the surroundings by burning a subtly sophisticated incense, Ku becomes an essential soothing part of your daily life.
---

How To Use
Tear the leaves
The leaves can be placed inside wallets, card cases, or into glass containers to be used as a diffuser.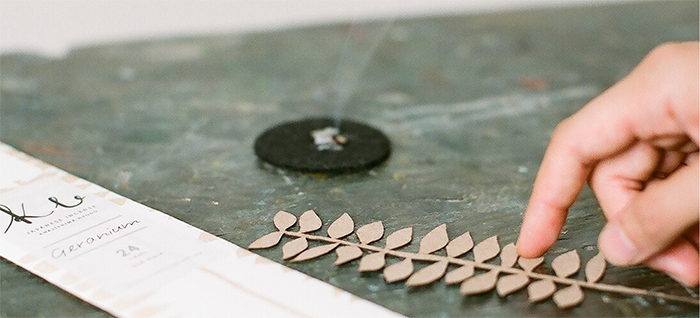 Light up
Set the leaves on fire, then extinguish. If the fire is left on, the scent will not be prominent.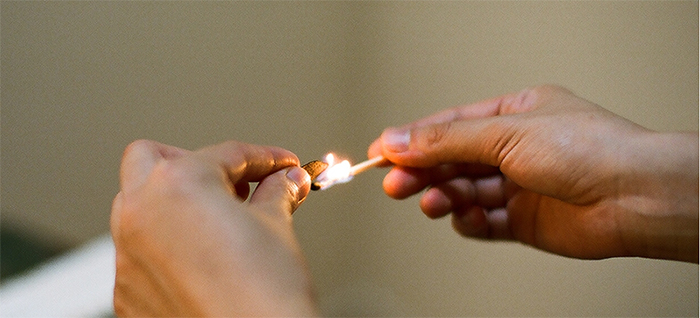 Place on mat
Please place the leaves on the included mat, with the mat placed on an ashtray or something similar.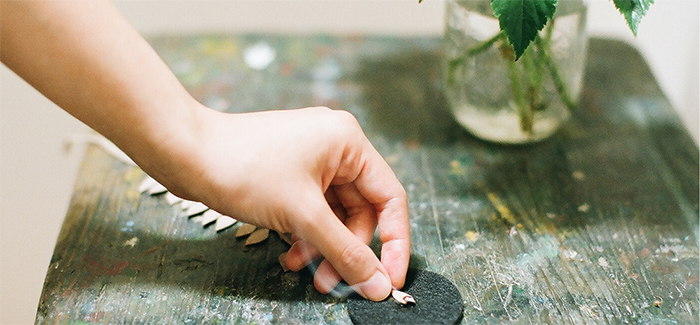 Other uses
You can stick it on the wall, enjoy it as a diffuser or as a hanging scent.
---

Please be sure to read before using
○ Be careful with fire handling, please do not leave the side while lighting this product.
○ When using as incense, please be sure to put the included incense mat on an ashtray etc.
○ Please discard ashes remaining in incense mat after use. If ash remains, the fragrance may mix when using this product next.
○ It is not food. Please keep it out of reach of infants, especially.
○ To prevent alteration, please avoid storing in hot and humid places.

OEM is also available.
We are accepting the novelty of the store and the production of original goods.
20 ~ 30 kinds of scents are available, color printing, cutting, perforation and so on are also possible.
I make an original scent shape.
---
---

Contact
Please contact us if you have any requests for designs, consultation or sample request.
Please contact us for returns and exchanges of goods.
※ Some may not be accepted if the vendor is different.
11-10 Tennoshita-cho,Tarumi-ku, Kobe-shi
TRUNK DESIGN
T 078 708 0661  F 078 708 0561
send mail to
Stockist
TRUNK DESIGN -Kobe Tarumi-
11-10 Tennoshita-cho,Tarumi-ku, Kobe-shi
T 078 708 0661
http://www.trunkdesign-web.com
TRUNK DESIGN -Kobe Shioya-
2F, 3-14-25, Shioyacho, Tarumi-ku Kobe-shi
T 078 797 4940

北海道
nero
〒040-0011 北海道函館市本町7-2 スマートビル2階
T 090 7517 2113
株式会社 シンコーリード
〒005-0832 北海道札幌市南区北の沢7-4-9
T 011 572 6722
DONOfav.
〒060-0062 北海道札幌市中央区南2条西4丁目10-6 SYMBIOSISbld.1F
T 011-211-0280
https://dn-o.jp/
江別蔦屋書店
〒067-0005 北海道江別市牧場町14-1
T 011-375-6688
https://ebetsu-t.com/
東北
関東
信州
中部
北陸
近畿
中国
四国
九州
香港
マカオ
台湾
シンガポール
サンフランシスコ
Kohshi Master of Scents
Japan Center - West Mall Building 1737 Post Street, San Francisco, CA 94115
T (415) 931 2002
http://www.kohshisf.com/
イギリス
カナダ
---